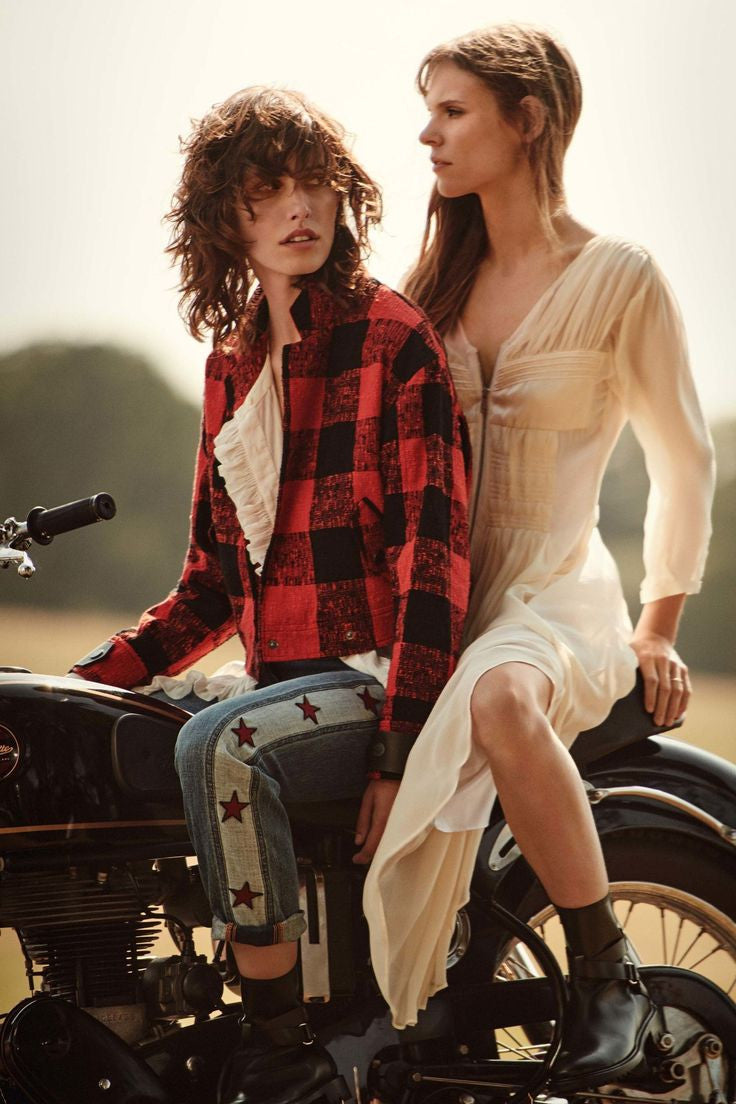 Hello lovelies, it's Kyle time!
After a whirlwind tour with Mabel in NYC for the NYNOW show, and then a little 'discovery' trip of my own last weekend to Los Angeles, sourcing fabrics and styles for a line of clothing I hope to put into production soon, it became apparent that a few trends have big promise this summer and fall. Let's discuss.
Embellishments 
This is the year to embellish a few pieces of your clothing with 'added value' items— anything from sequin patterns to plastic discs filled with glitter, like on this dress by Erin Robertson, who won Project Runway in 2016.
Patches
No these are not you grandmother's frocks, but Gucci 2017! Patches are everywhere this year. and unless you've been living under a rock, get out and go buy some patches that suit your style—pronto!—and apply them to your favorite bag, T-shirt, or jeans.
3D Fabric
The clothing below looks almost like lace, but it isn't. It's nylon that has been "printed" with a 3D printer. 3D printers are on the market for nearly $4,000, and enable you to draw up designs on a computer and then print from a variety of fabrics to make clothing that has a unique tensile strength, but also provides innovative new ways to drape. 3D fabrics are trending, and also help eliminate waste! (If 'waist elimination' is part of your program, however, that ball is still in your court!)
Leather
Leather has been styled throughout the years to provide glimpses of what's to come. In the past leather has been typically used more for outerwear, but this year it's invading your closet as a layer to work with your favorite denim, or wool overcoat. Seen here is Belstaff's 2017 Promo. 
 Ath-leisure 
Ath-leisure is casual, comfortable clothing designed to be suitable both for exercise and everyday wear. Combine these elements to create a chic look that is easily dressed up with heels, or dressed down with a sneaker or flat. Ath-leisure easily transitions through the day, from afternoon to evening. Check out the "technical cashmere" lines at Kit and Ace, too!
Fur
Fur is daring and monochromatic, taking on color hues found in undergarments. Seen here in Fendi Promo 2017. The blue and grey tones work together beautifully. 
Platforms
Platforms are very much in season. Most designers at Fashion Week had some sort of platform with their looks. Shown below are from Stella McCartney 2016-2017 Winter. It is so pretty with a sort of effortless look, and also super comfortable. Of course they make you look taller, too! I really like them with the ath-leisure look, too.  
As always, I'm working with Mabel most of the week at the Sacramento Street store. Stop by and let's talk summer looks, and we'll pair it up with something from Mabel's newest lines, too!
Toodles-
Kyle